PRESS RELEASE
SABAW presents:
"SUNDAY MASS" – Fringe Symposium for the Experimental Arts
Curated by TENGAL
WHEN: JANUARY 15, 2008 (TUESDAY), 9:00PM
WHERE: Mag:net Café Katipunan, AGCOR Bldg. 335 Katipunan Avenue, Quezon City, Metro Manila.
ADMISSION: 100 Pesos (consumable 50 pesos)
The ULTIMATE BIZARRE HYBRID art show of 2008 starts off this January 5, Tuesday, at Mag:net Katipunan, at 9pm.
SABAW will be starting this year with three very fascinating and provocative shows in one night. Starting off, is the second performance of the GANGAN SERIES, a series of sound art improvisational algorithms (set of rules), created and to be performed by the GANGAN ENSEMBLE. Using a video graphic score (created by video artist Tad Ermitano), Tengal has created a new set of algorithms for the GANGAN ENSEMBLE to follow and improvise on.
Second, a rare performance of Shibari, a Japanese art form of rope bondage, followed by a demonstration and talk with the only Shibari expert in the Philippines, Shinobi.
And ending the night would be MONDO BIZARRO, 90 minutes of the most mind-bending genre cinema from around the world. Narrated live by Andrew Leavold, an Australian alternative cinema connoisseur and founder TRASH VIDEO, Australia's largest alternative rental store.
Gangan Series II: VOLUME CONTROL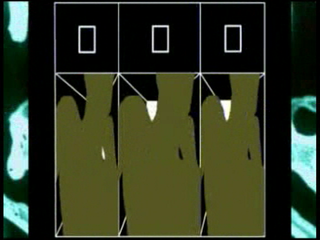 GANGAN SERIES started last July 2007 at Mag:net the Fort in conjunction with the "Happy Tengal Day" and "The Galleon Trade" art exhibit. Originally named the MOTZKIN GANGAN ENSEMBLE, it was created to perform the piece initially called "The Rotation of 9" that was created by Tengal, with the ensemble under the conductorship of Tad Ermitano. Since then, new ideas and concepts were introduced into the repertoire of the ensemble that gave birth to a series of new performances known now as THE GANGAN SERIES.
The GANGAN ENSEMBLE is a free improvising ensemble composed of any number of musicians/sound artists performing under the direction of its creator, Tengal.
For the GANGAN SERIES II, Tengal has incorporated a video graphic score created by Tad Ermitano and has created a new set of rules for it. Tad Ermitano's video graphic score, VOLUME CONTROL, was originally composed for his (now defunct) "noise gamelan" with the same name. With his permission, Tengal created a new concept and algorithm to go alongside the existing video graphic score to be performed by his GANGAN ENSEMBLE.
[For more info on how the piece works and how it looks like please check:
www.gangan-series.blogspot.com
]
The GANGAN ENSEMBLE:
Ria Munoz – Laptop, Touch-screen Synthesizer, Electronics
(Ria Muñoz first worked with another sound artist Pow Martinez as the duo Nasal Police doing sounds for most of the performances and dance projects by contemporary dancer Donna Miranda at CCP, notably for the WIFI project and for series of Anatomy Projects at Green Papaya. She has also composed music for filmmaker Khavn dela Cruz and for Cinema One Originals. This is her second time to perform in the GANGAN ENSEMBLE.)
Inconnu ictu – Air synthesizer (infrared), Electronics
(Inconnu ictu is the Philippines' answer to noise god, Merzbow (at least in terms of amount of electronic analog equipment). With Inconnu ictu, excess is a creed. Alone he performs with a no-holds-bar aesthetic, but performing in an ensemble, he is among the best players who know how to hold back. This is his second performance in the GANGAN ENSEMBLE.)
Supreme Fist – Turntables
(Supreme Fist is definitely among the best hip hop turntablists of the Philippines. Three Times Manila Underground DJ Battle Champion, two times DMC Philippines 3rd Runner Up (2002-2003), and DMC Philippines DJ Champion of 2006. Currently, he is exploring new ways of experimenting, and this will be his first performance in the GANGAN ENSEMBLE.)
Erick Calilan (Ugong) – Various Asian instruments, Circuit-bent toys
(Erick Calilan often performs under the name UGONG, a sound art outfit utilizing home-made circuit-bent sound devices created from old Casio keyboards and Tamagochi. He is based in Dasmarinas, Cavite, with the likes of Avant sculptor and instrument builder, Lirio Salvador of ELEMENTO, who both have performed in the GANGAN ENSEMBLE before.)
Joey de Guzman – Alto Saxophone
(Joey de Guzman studied saxophone at the conservatory of music in the University of the Philippines. He is among the most sought out musicians in the local music scene and among the best improvising sax players in the Philippines. This will be his first time to perform with sound artists, as well as the GANGAN ENSEMBLE.)
Anto Bautista – Electric guitar
(Anto Bautista likes jazz. He also likes noise and other strange music. He has been a mainstay guitar player in most of Tengal's albums. Utilizing his creative improvisational skills on guitar, he likes to incorporate his traditional jazz background with new experimental explorations to push between genre boundaries. Like jazz saxophonist Joey, this is also his first time to perform in the GANGAN ENSEMBLE.)
Conducted by Tengal
SHIBARI: JAPANESE ROPE BONDAGE PERFORMANCE + TALK:
Shibari used to be derived from an ancient Japanese military rope bondage technique. Originally it was used for torture and in capturing prisoners, but bondage as a sexual activity first came to notice in Japan in the late Edo period. In recent times, Japanese bondage has been popular among the western BDSM scene, due to its visually beautiful intricate ropework.
Shinobi will be doing a brief performance with a rope model while being musically accompanied by Tengal. An informal Q and A and demo will be conducted right after.
(WARNING: NOT SUITABLE FOR MINORS AND THE HIGHLY CONSERVATIVE.)
Shinobi is a "Nawashi" (Rope Artist) based in the Philippines from the College of Fine Arts taking Visual Communication as his major from 1991 to 1997. He's provided creative expertise for professional theater as production and creative artist for over 15 years and has worked for numerous advertising agencies as consultant and creative art director for print and visual media.
For pictures and more info please check out:
Shibari - Way of the Rope
Preview
MONDO BIZARRO: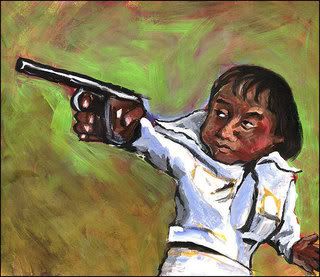 90 minutes of the most mind-bending genre cinema from around the world! Narrated live by Trash Videos' Andrew Leavold, a feature-length collection of the wildest moments from over 50 international genre anti-classics! This is the Twilight Zone of the film world, a warped vision of Hollywood that only an exploitation genius in Manila or Istanbul would have the tenacity to launch on an unsuspecting public. Here we travel the globe leaving no grindhouse untouched, no fleapit unbitten. We bring you the most bizarre films of all time. We give you...MONDO BIZARRO! SEE Mexican wrestling monster movies like Santo & Blue Demon vs Dracula & The Wolfman! SEE amputee kung fu action from Crippled Masters! SEE Filipino midget spies in For Your Height Only! SEE the Turkish Star Wars! The Turkish Exorcist! The Japanese Planet Of The Apes! The Indian James Bond! SEE the hallucinatory Brazilian horror of Coffin Joe!
Andrew is the founder and co-owner of Trash Video, Australia's largest alternative rental store, writer and film critic, TV presenter (Schlock Treatment every Friday at 8.30pm on Brisbane's Channel 31), festival programmer, MC, trivia quizmaster, agnostic evangelist, Masters student at Griffith University, lover, fighter, former masked wrestler "El Stumpo", obsessive archivist touring the country regularly with his compilations of fringe cinema, and occasional guerrilla filmmaker.
Andrew's Site
THIS IS ONE NIGHT ONLY! PLEASE COME AND BRING ALL YOUR FRIENDS, FAMILY MEMBERS, ANIMAL FRIENDS, AND HUMANS. PLEASE FORWARD THIS BLOG! SUPPORT FILIPINO ART! THANK YOU!
SABAW is dedicated to promoting and releasing the best in the avant-garde, experimental and electronic music in the Philippines.
SABAW likes to see itself as a platform for all kinds of infomation and communication carried via modern electronic media, whether it be a compact disc, MiniDisc, DVD, internet, video, live PA or a vinyl record release. Our aim is to keep the work undiluted from the artist's vision; and always in print and archived in our internet archives website.
Apart from it's duties as an archival company, SABAW also represents a cross-section of innovative new media artists, interdisciplinary artists, contemporary musician-composers who find it difficult to release their material through more conventional channels.
Founded by Tengal in 2005.
www.groups.yahoo.com/groups/sabaw
Contact for more info: tengald@gmail.com / 09206045559
Poster here