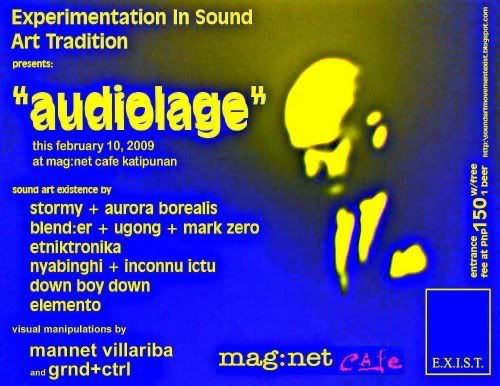 Featuring sound artists:
Aurora Borealis
vs. Joee Mejias of
Stormy
Blend:er
vs.
Ugong
vs. Mark Zero
Nyabinghi
vs.
Inconnu Ictu

Etniktronika
Down Boy Down
Elemento
live video manipulation by:
Mannet Villariba
and
grnd+ctrl
======================
February 10, 2009
9:00 PM
Mag:net Cafe Katipunan
MAP

E.X.I.S.T. (EXperimentation In Sound art Tradition)

E.X.I.S.T. is a not-for-profit sound art collective and movement. It's a loose organization among sound-artists and musicians.

It aims to educate people about Experimental Music and Sound Art as an interdisciplinary art form. E.X.I.S.T. commonly engages in the use of found objects and environmental sound as a medium. Moreover, they explore with any of audio technologies (both analog and digital), including creative electronic manipulation or the process of creative audio short-circuiting also known as 'Circuit Bending' which is also an integral part of sound art experimentation. Another technological aspect explored is the computer's capability to generate sound. In this field of study, one examines both the theory and application of new and existing technologies in the areas of music and sound design.

Sculpture, Performance Art, Multimedia and other conventional art form and techniques can be also incorporate and merge on the process and methodology.

Sound art also gives emphasis on the creative production and presentation of 'sound' not necessarily the 'music' which becomes just one component of the endless possibilities of sound art, and the total characteristic of sound and its medium.

E.X.I.S.T. continues the tradition of Experimental Music and Sound Art by organizing concerts, exhibitions, symposiums and workshops in art galleries, art spaces, universities, and even conventional channels such as music bars, cafés, and open space venues. It also serves as a channel to promote Experimental Music and Sound Art here in the Philippines, opening more people to recognize it as an individual and interdisciplinary art form.